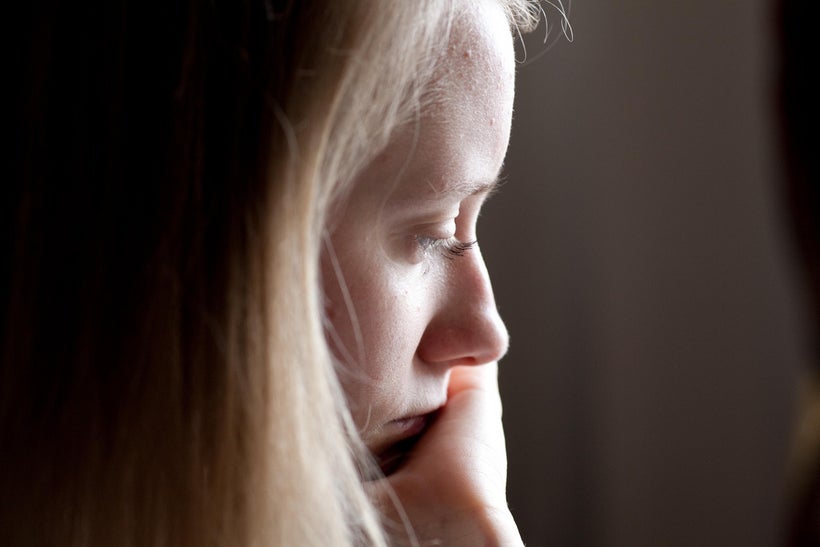 It could have (and should have) been a scene from another century but a church attendee's video, shared on social media, exposed that within our so called modern world, there exists public shaming of children in the name of "religion."
"I want to love myself and not feel ashamed for being me"
Savannah was unable to finish as mid talk, her microphone was intentionally shut off and she was told by a church leader to "return to her seat."
In a recent editorial titled, Love is Love is Love is…Cut the Mike," writer Elna Baker remarked, "In the 27 years I lived as a practicing Mormon in churches in Washington State, Utah, New York City, London and Madrid I never once saw someone cut off in the middle of his or her testimony. Not once."
After realizing why her microphone was cut, Savannah returned to her seat, placed her head in her mother's lap and sobbed.
If you want to concoct a recipe for the future manifestation of a host of issues including, anxiety, depression and symptoms of trauma, start with a child and then throw in trusted adults telling that child that his or her deepest most authentic feelings about who they are must be suppressed because they are wrong.
An event does not need to be as extreme as a death, an act of violence or a serious accident to produce symptoms of trauma. Trauma according to Dr. Peter Levine, author of Trauma Through a Child's Eyes, is defined by its effect on a particular individual's nervous system not on the intensity of the circumstance itself. One child's benign event (affable divorce of parents, minor car accident) is another child's trauma.
Trusted adults silencing a thirteen-year-old for speaking her truth is not so benign.
Millions of adults are quite familiar with the anxiety, depression, and other issues that can insidiously manifest over time as a result of childhoods in which expression of their truth was forbidden, mocked or punished. Secondary trauma, when not addressed, happens over time with symptoms often manifesting months and even years after the upsetting event.
Savannah is fortunate. She had a sympathetic parent who allowed the immediate release of her tears, supportive friends were present in the church (hence the sharing of the video) and judging from the media attention, it appears Savannah has accumulated a bevy of supportive strangers.
In response to the video of Savannah going viral, Judd Law, the lay bishop who leads the congregation said the event was exploited to "politicize worship services and violate church decorum."
The worship service, it appears, is all about love and compassion until the love and compassion don't meet the imposed definition of such and then it's "politicking."
Sounds like a spin on what was plain and simply an odious action meant to silence that which made a few white, narrow-minded men uneasy.
Hopefully there are additional congregants in Eagle Mountain who are bothered by what they witnessed and who will say as much; otherwise Eagle Mountain is looking less like a church and more like a cult.
It also couldn't hurt to see public and revered personalities of or raised in the Mormon faith, such as Donny Osmond or Kathrine Heigl, raise their voice in support of this brave young girl.
If the goal is to build healthy and compassionate communities, it is everyone's responsibility to not only never suppress the Savannahs of the world but, also to support and to encourage them as more and more Savannahs will inevitably emerge in a society that is steadily moving forward albeit with a few bumps.